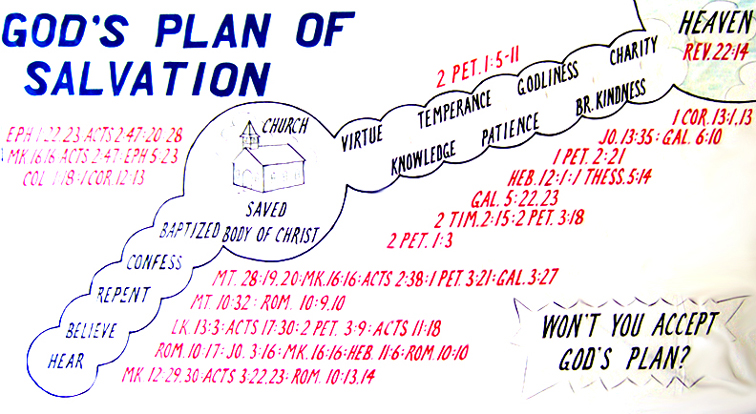 History of the argument
I want to now respond from a slightly different angle. Where did this embarrassingly bad argument come from? Well, from a line of reasoning popular in the mid-19th Century that emphasized obedience to "positive commands" over moral commands. The idea was that God imposed certain purely arbitrary ("positive") commands to test our faith. Therefore, obedience to the positive commands is outside the realm of grace. There might be grace for all sorts of moral sins — no one is perfect — but not for positive commands. See this article by John Mark Hicks giving some examples. Here's another example from a sermon by Benjamin Franklin (the Restoration preacher, not the Revolutionary patriot).
These positive commands include baptism, the Plan of Salvation (for some), the Lord's Supper, weekly attendance, a cappella singing. Do you see a pattern?
Thus, refusing to use a piano or organ was considered far more important than, say, caring for widows and orphans, feeding the hungry, or refusing to slander your brother. This element in the Churches of Christ went so far as to make the "positive" commands so absolute that any error at all — having an elder with just one child, ordaining a deacon who remarried after the death of his first wife — damns the entire congregation. And, thus, patternism came to supplant righteousness, and the Pattern became far more important than being transformed by the Spirit into the image of Jesus.
The language of "positive commands" is largely forgotten, but the old attitudes and positions remain strong in some segments of the Churches of Christ. Schools of preaching continue to repeat such ignorance of the scriptures despite repeated disproof of their errors.
Thus, the mindset has become that we can only absolutely insist on positive commands (a human false assumption, nowhere taught in scripture). Therefore, since faith and repentance are clearly absolutely required (and they are), they must be positive commands. Therefore, there is no real reason or purpose behind those commands. It's a very backward, absurd way of thinking created to defend a very destructive legalism.
At this point, the embarrassing absurdity of this human philosophy masquerading as Christianity should be obvious to anyone. Repentance is arbitrary? God wants us to stop sinning just because … just to test our faith? Are you serious? Oh, please …
Just so, faith in Jesus appears arbitrary to those who don't know Jesus. There are plenty of atheists who'd agree! But faith in the one who died for us, who bears the image of God himself, who set the perfect example of being like God on the cross — well, that's not arbitrary. It's the heart of being restored to God's image.
Here's the long and short of it. The foolishness of the humanistic philosophy is found in the desire to build up baptism as the center of Christianity. And that's a mistake. Jesus hanging on the cross for our sins is at the center — and it reaches all the way to the edges. Miss that and you miss everything. Moser was spot on.
The real reasons
Let's ponder some reasons faith in Jesus is necessary for salvation. And there are, of course, numerous reasons. And I don't pretend to have completely plumbed the depths of the question. I see some facets of the jewel, but I don't see the jewel's entirety — and I don't expect to until I'm in the arms of Jesus.
1. Jesus' death is the propitiation or expiation of our sins. It's the perfect atoning sacrifice. But it's not a sacrifice we personally make. Rather, it's a sacrifice God makes for us — in hopes that we'll enter his family. And, of course, we can't respond to that sacrifice if we don't believe in Jesus. We can't be changed by it. We can't be grateful for it. We can reciprocate God's love as shown in the sacrifice.
2. Jesus' death is the model for Christian behavior. Over and over, we're told that we should live as Jesus lived and sacrifice ourselves as he did. And we can't do that unless we believe in him.
3. Jesus is the Messiah, that is, the God-anointed king of God's Kingdom, to whom we must bow. And how can we serve someone we don't believe in?
4. Jesus is Lord. That's the confession of the early church. "Lord" means "king" but is also the word used by the Jews for YHWH. This is not merely about getting the doctrine of the Trinity right. It's about knowing God. Jesus is, you see, the truest, most perfect image of God. He was created in God's image, unblemished by sin. And one of God's goals in saving us is to re-shape us into God's image. God wants us to be like God, which is to be like Jesus, which is to be a self-emptying, sacrificing, servant of God — like Jesus. Jesus is our example and our goal and our teacher. Love — the real, unadulterated, pure Christian kind of love — is personified in Jesus. Miss Jesus, and you misunderstand love.
5. "Faith" also includes trust, and we trust God's promise of the resurrection because we believe that God resurrected Jesus. There is no hope without faith in Jesus.
6. "Faith" further includes faithfulness. Why be faithful? Well, because Jesus was and is faithful. Because we are moved by Jesus' life, teachings and sacrifice to be faithful. To realize our hope. To be like God. To please God, whom we love because we met God in Jesus.
7. Faith is the heart of God's covenant with Abraham. God knew that mankind could not rise to the level of perfection required to merit salvation, and so he came up with a grace system — a system based on the heart rather than absence of guilt — a system mankind could measure up to and a system that would work in all cultures and nations and languages. And so God brought the Gentiles into his covenant with Abraham by faith in Jesus.
8. Faith makes us suitable receptacles for the Spirit. The Spirit of Christ only dwells where Jesus is believed in. We have to be willing to yield to the Spirit — and who can yield to a Spirit that he doesn't believe in? It's my experience that the Spirit works much more powerfully in those who believe in the indwelling, and further my experience that belief in the indwelling is found most powerfully among those who accept salvation by grace through faith in Jesus. It's only when we begin to truly trust in Jesus, rather than ourselves, that the Spirit can lead us effectively.
That's all that comes to mind. But it should be enough to demonstrate how very non-arbitrary faith in Jesus is — and how ignorant of the scriptures the contrary view is. Taking faith seriously, and delving into its mysteries, opens up countless vistas into the scriptures and brings clarity and insight and richness. Insisting that faith is arbitrary makes the scriptures unfathomable and obscure.
Flee such false teachers.