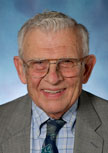 Dr. John T. Willis is an oft-honored professor of the Old Testament at Abilene Christian University, author of several books, and highly respected Bible scholar. I just learned that he has a blog. I've subscribed to his blog (via RSS), and I'm excited to have such a rich resource for Old Testament studies so easily available.
Among his recent posts is a brief discussion of the Old Testament roots of the phrase "sing and make melody" — so often quoted from Ephesians 5:19. Amazingly, it has zero comments. I guess the word hasn't gotten out that one of the great Old Testament scholars among us is on the Internet.
Now, I hesitated to post this, because I really am tired of the whole instrumental music discussion. Yes, I brought it up, and I keep bringing it up, so it's entirely my fault, and I know it, but still, what's left to be said?
And you'll notice that this is not part of the "Real Worship" series, because the point is very incidental to that discussion. Nonetheless, I was very interested to know what a genuine Old Testament scholar thinks of Paul's expression — being, as it is, borrowed from the Old Testament. And I'd have felt remiss had I not shared this discovery.
But here's my idea. Dr. Willis's posts always end with a request for comments, and he receives none. Word hasn't gotten out about it, I suppose. So if you have comments regarding his post, he'd likely prefer that you comment there and help generate some traffic at his web site. I'm sure many here will have comments regarding his opinions, and I'd be fascinated to see his replies.